Welcome to Cutting Edge
LAUGH. DISCUSS. LEARN.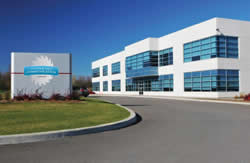 Cutting Edge Corporation is a simulated company created by psychologist Eve Ash and comedienne Erin Brown where the managers and staff are constantly learning lessons. Despite the hilarious communication disasters each program is packed with powerful lessons. Filmed in LA these programs feature many brilliant comedy performers, with Erin Brown as Carol.
150 titles in the Cutting Edge Communication Comedy Series and sequels Success at Work Series, Basic English Series, English at Work Series and Simple English Series.
VIEWER FEEDBACK

What an amazing response from senior executive right down to new managers! .... the engagement was brilliant. I introduced the characters prior to showing the video to try and make the experience more personal. They laughed and discussed ... Word got out and the subsequent groups actually came early to get a seat and there was a real buzz in the air and with enthusiasm for the training. They are still talking about the case study. I cant wait to show them more of Cutting Edge.
Jan Durrans, Chief of Staff & Chief Performance Officer, BOFI Federal BANK, USA
"Like a sit com! I want more."
"Easy to follow and entertaining."
"Original and very funny, and make their points very well."
"The points are summarized very clearly."
"It generated new ideas for me and our team."
"Ideal length and very engaging."
"Made me feel positive and energized."
"Really relevant to what happens at work."
MEET THE PEOPLE. THEY MAKE MISTAKES, HATE MISTAKES AND LEARN FROM MISTAKES.
SERENA

Vice President

MARCUS

Regional Manager

CAROL

Office Manager

STEVE

Sales Supervisor

SAM

Policy Manager

BARNEY

CEO next door

ALEX

Marketing Consultant

MICHAEL

Project Manager

TAMMY

Accountant

CASEY

Office Assistant

SHERRY

Researcher

SANJAY

Account Manager

CARLOS

Receptionist

TATIANA

Intern from Brazil

DION

Intern & Marcus' nephew