Cutting Edge Communication Comedy Series 1-80
AUD $7,920.00
Add to Cart

Synopsis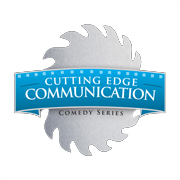 COMEDY MAKES LEARNING FUN
This comedy business series completed in 2016 was created by Psychologist Eve Ash and comedienne Erin Brown. This series will surprise, amaze and entertain you, while at the same time teaching some important lessons in human interaction, in a way you won't forget! 30 new titles released in 2016 after the original set of 50 titles has done so well worldwide.
Everyone will laugh and learn with these short episodes (6-10 minutes each) that highlight dos and don'ts.
This Australian produced series was filmed on location in Los Angeles, and includes leaders' guides with discussion questions, activities and hand outs. Plus Powerpoint slides to make learning easy and fun.
$7920 for set of 80
1 DVD $275
2-4 DVDs $220 each
5-10 DVDs $187 each
11-19 DVDs $165 each
20-35 DVDs $143 each
36-49 DVDs $132 each
50-79 DVDs $110 each
80+ DVDs $99 each

All titles are available for streaming
An additional 70 Cutting Edge programs are now available:
Cutting Edge Success at Work x 10 titles
Cutting Edge Simple English Series x 20 titles
Cutting Edge Basic English Series x 20 titles
Cutting Edge English at Work Series x 20 titles

Download the Cutting Edge Communication PDF Flier

Watch the Trailer
Key Learning Points
Topics covered:
• Personal Success & Communication Skills x 10 titles
• Sales, Service & Negotiation x 7 titles
• Presentations Training & Online x 9 titles
• Handling Conflict & Difficult People x 7 titles
• Managing Performance & Standards x 10 titles
• Managing Stress, Safety & Well being x 10 titles
• Leading People, Change & Culture x 10 titles
• Diversity, Bullying & Respect x 7 titles
• Building Effective & Motivated Teams x 10 titles
To buy the WHOLE SERIES, click on the shopping cart above (no need to add individual titles to your cart). This series contains the following titles
Testimonials
"Appropriate humor is always a good way to dissolve barriers and build respect in the workplace"
"It is absolutely fantastic! Made me laugh out loud. Best training product I've seen in years."
Recommended Audiences
Distributed in the following format(s)
Available in the following language(s)
Media Type
Video Recording
Featuring
Actor Erin Brown
Actor Cutting Edge comedy team
Presentation Style
Closed Captions
Yes
FILMING LOCATION
Los Angeles
COPYRIGHT OWNER
Seven Dimensions
PUBLISHER
Seven Dimensions