Success at Work Series - 10 program set
AUD $1,320.00
Add to Cart

Synopsis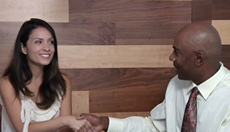 Special introductory price, all ten programs for only $1320! (Normal price will be $1870.)
Learn key employability skills. Ten fun videos for school leavers, college students and new starters to achieve success at work.
Two new interns arrive at Cutting Edge but not everything goes smoothly. Dion is the overconfident smart talking nephew of the boss. Tatiana speaks five languages but must work to be positive. Learn from their mistakes and develop skills to give students and new recruits an edge to succeed at work challenges.

There are 10 programs - each comprising video, PowerPoint slides, workbook with activities and answer sheet, learning tips, certificate and full script.

Click here to download the two page flyer

Watch the Trailer
Key Learning Points
1. MAKE A GREAT IMPRESSION
Dress for success
Shake hands professionally
Remember details
Introduce warmly
Show enthusiasm
2. COMMUNICAT EEFFECTIVELY
Show positive body language
Listen and respect others
Communicate professionally
Impress on the phone
Present and engage positively
3. BE CONFIDENT AND ASSERTIVE
Speak with confidence
Be knowledgeable
Be switched on
Change negative thinking
Ask for help
4. SET AND ACHIEVE GOALS
Determine your goals
Ensure goals are realistic
Set specific measureable goals
Achieve results within timeframe
Be persistent with SMART goals
5. PRIORITIZE AND ORGANIZE
Get yourself organized
Work out priorities
Plan tasks effectively
Always be on time
Learn to manage pressure
6. CONTRIBUTE TO THE TEAM
Participate positively in meetings
Communicate and collaborate
Adapt and solve problems
Show initiative
Do your best every time
7. APPRECIATE FEEDBACK
Welcome feedback
Be open
Learn from mistakes
Ask for advice
Practice feedback skills
8. BUILD EMPLOYABILITY SKILLS
Find opportunities to learn
Be proactive and find mentors
Be calm with difficult people
Talk yourself up
Learn to apologize
9 .DEMONSTRATE STRENGTHS
Use experience to shine
Surprise people with knowledge
Turn skills into strengths
Grow through self-awareness
Show genuine passion
10. IMPRESS AT JOB INTERVIEWS
Impress from the start
Wow with research and résumé
Give powerful examples
Answer tricky questions skillfully
Ask clever questions
To buy the WHOLE SERIES, click on the shopping cart above (no need to add individual titles to your cart). This series contains the following titles
01: Make A Great Impression
Dress for success, be enthusiastic and introduce professionally. ...
More...
02: Communicate Effectively
Project positively, listen and respect others and be clear and engaging. ...
More...
03: Be Confident and Assertive
Speak with confidence, overcome personal blocks and be assertive. ...
More...
04: Set and Achieve Goals
Be clear about your goals and steps to achieve them and persist. ...
More...
05: Prioritize and Organize
Plan for success, manage yourself efficiently, prioritize to get results. ...
More...
06: Contribute to the Team
Speak at meetings, volunteer to help and collaborate with others. ...
More...
07: Appreciate Feedback
Welcome feedback without defensiveness and continually improve. ...
More...
08: Build Employability Skills
Find ways to learn new skills, manage your emotions and speak impressively. ...
More...
09: Demonstrate Your Strengths
Surprise people with knowledge, experience and self-awareness. ...
More...
Recommended Audiences
Distributed in the following format(s)
Available in the following language(s)
Media Type
Video Recording
Featuring
Actor Erin Brown
Actor Cutting Edge comedy team
Presentation Style
Closed Captions
Yes
FILMING LOCATION
Los Angeles USA
COPYRIGHT OWNER
Seven Dimensions
PUBLISHER
Seven Dimensions